"Qigong is the skilled practice of gathering more chi, more vital life force, more energy to yourself, harnessing it and harmonizing it. Everything you do takes energy and actually either adds to your energy system or depletes it."
Excerpt From:
Qigong for Beginners: Your Path to Greater Health and Vitality
By David J. Coon
Need more energy? Learn to cultivate it! In traditional Chinese medicine and Taoist practice energy is referred to as chi.  Chi (energy) exists all around us. However, to use it, we must first harness it. One way to harness chi is through the practice of Qigong. Through practices involving intentional movement, stillness, and emphasis breathing, energy is gathered and delivered to the body, its cells, organs, tissues, and blood.
The movements in Qigong resemble a cross between Tai Chi and Yoga. Some people even refer to it as Chinese yoga. The power of Qigong lies in centered movement and emphasis on the breath. The various postures and exercises enable the practitioner to focus on balanced and centered movements and let go of the chaos that often intrudes into our lives. For examples of Qigong postures and exercises, check out our array of videos on Amazon. A great place to start is Qigong for Beginners (https://www.amazon.com/Qigong-Beginners-Medical-Master-David/dp/B0777NQBYR/ref=sr_1_1?ie=UTF8&qid=1542664350&sr=8-1&keywords=qigong+for+beginners+david+j+coon).
Qigong also harnesses the power of attention and intention. Where your attention goes, energy flows. If you focus on the negative in your life, you grow more negativity. If in Qigong practice, you focus your mind on filling your internal battery (the lower dan tian in traditional Chinese Medicine), then you begin to draw energy to yourself. As with any skill though, this takes practice. Not just practice with the body but also practice focusing the mind. Qigong for Beginners: Your Path to Greater Health & Vitality gives not only in-depth descriptions of the philosophy behind Qigong but also practical exercises that will enable you to immediately begin to incorporate Qigong practices into your life in a tangible way. (Find this book at https://www.amazon.com/Qigong-Beginners-Greater-Health-Vitality/dp/1483486354/ref=tmm_pap_swatch_0?_encoding=UTF8&qid=1542664350&sr=8-5)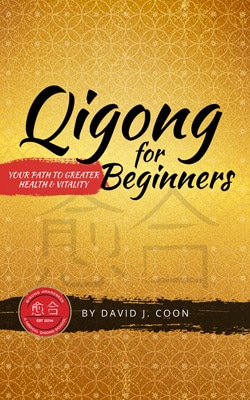 2019 is rapidly approaching… what do you want in the new year? If you want more energy, greater health, and more prosperity, check out Qigong! It just might help you make the shift you have been searching for. Many of our students have had amazing success utilizing these Qigong principles to bring about incredible life changes.
Melissa is a student in our Certification Program that has had an amazing transformation. She is a retired Army veteran and cancer survivor. Read Melissa's description of how training in Qigong has affected her life and outlook… "I have been training with David for a year and a half now. When David moved to Wilmington, I had been practicing Qigong sporadically for a month or so. Qigong seemed cool, but I had not had any previous experience with energy work and was, admittedly, skeptical. However, I had had breast cancer 3 times and was fed up with the options that Western medicine offered. I was overwhelmed with side effects and took a handful of pills a couple of times a day. When cancer returned the third time in 2014, I was medically retired from the Army and my physical condition had deteriorated from being very physically fit to barely being able to walk a mile.
Since May 2017, I have trained with David in the Instructor Certification Program, Qigong classes, Intensives, and private sessions, as well as participating in his healing clinics. Since beginning training, I have been able to stop taking 8 different prescription medications. One of these medications was an IV chemotherapy variant that I had been told I would be on every 3 weeks for the rest of my life. About 6 months ago, I went in for my check-up with my medical oncologist and she told me I did not need that medication anymore!
Additionally, I have lost 25 lbs., can run 5 miles, have been able to return to my martial arts training, am a certified Level IV Qigong Instructor and have started on my Level V certification as a Medical Qigong Practitioner. The difference in my physical, emotional, and spiritual well-being has been phenomenal. David is an amazing healer, instructor, and coach. My story for the past 9 years has been a story of cancer. Thanks to David, my story is now a story of healing, health, and prosperity."
Melissa L. Culbreth, MDIV, MA, QI-200
Qigong Instructor & Major-Retired, US Army
Carolina Beach, NC
November 2018
Check out www.qigongawareness.com for more stories about Qigong & Medical Qigong has changed lives!