Qigong Instructor – 200 Hr
Become a Certified Qigong Instructor with Qigong Awareness.
Become A Certified Qigong Instructor
QI 200 hr Certification Program
In this online Qigong Teacher Training Program, you will become a Certified Qigong Instructor with Qigong Awareness, LLC.  You will earn the Certified Qigong Instructor, QI 200 Title. There are four levels each 50 hours in length. The entire program is 200 hours. You will have online training in both how to teach a one-hour Qigong Class and how to give a Medical Qigong Treatment. Level IV culminates with learning how to teach a 2 hour Qigong Workshop. This is an in-depth hands-on experiential training program.
This Certified Qigong Instructor training program is all online. You will heal yourself while learning to heal others. Each level builds on the previous levels' teachings. You will learn 8 unique flows for teaching a one-hour Qigong Class. You will learn over 30 Medical Qigong Treatment Techniques. This is an in-depth hands-on experiential program.
You will learn to:
Teach a one-hour Qigong class
Teach a two-hour Qigong Workshop
Give a one-hour Medical Qigong Treatment.
Who should take it?
This is an amazing certification for acupuncturists, Massage Therapists, Chiropractors, Qigong Instructors, Yoga Instructors, Martial Arts Instructors, Reiki Practitioners, other professionals, and laypeople will benefit from this teacher training program. No prerequisites are required.
Course Curriculum
Click here to view the levels I-V course curriculum. This Certified Qigong Instructor Training Program consists of the first four levels.
Payment Options
Payment Options for Levels I-IV*


All Four Levels – 200 hr program
Become a Certified Qigong Instructor

Total: $4752
(4 Year Monthly Payment Plan**)
**Option to pay off each level earlier is available

Total: $3996
Save over 15%
We recommend completing this program in 2-4 years.

Total: $3695
Save over 22%
We recommend completing this program in 2-4 years.
Discounts
Please contact us if you have already completed any of our level programs or courses. We will give discounts if you have previously taken any of our level programs or courses. For example, if you have taken any of our 15 CEU/PDA courses you will receive $199 off this program. If you have already completed Level I then you will receive $999 off of this program.
Please call 910-833-8036 or email us: [email protected]
Getting certified as a Qigong Instructor was one of the best decisions I've ever made! David's knowledge and insight changed my life and fed my soul!"
QI Program Fee
Qigong Instructor – 200 hr
$3695
This program may be completed in 2-4 years.
You will have ongoing access to this program.
Course Highlights
200 Hour Certification
120 PDA/CEU
Online Training
Ongoing Access
Handouts
Multi-Device Support
Direct Access To Master Instructor
QI 200 – Designated Icon Logo
Levels I-IV
Title: Certified Qigong Instructor – QI 200
This teacher training program is designed for Acupuncturists, Massage Therapists, laypeople, and other health care professionals.
Approved Certifying Boards
NCCAOM – National Certification Commission for Acupuncture & Oriental Medicine
CA Acupuncture Board
CE Broker
Florida Acupuncture Board
Texas State Board of Acupuncture Examiners
NCALB – through NCCAOM reciprocity
And more, see all
Master Class*
This event is for Certification Students that are desiring to improve their technique and form. An opportunity to be in real-time with Instructor David J. Coon. This is a live-streaming and in-person two-hour event. Click here to learn more: Master Class – Technique & Form
*This Invitation only event is a separate fee from the certification program. You will learn to improve your form and technique as well as your students. This is a valuable opportunity to be in real-time with the Instructor. This is one of the most requested classes from our students. We now offer it twice/year.
Become a Certified Qigong Instructor & Medical Qigong Practitioner
Join our Qigong Family! Watch this video to see short clips from our workshops.
The Five Certification Levels
By completing the first four levels, you will become a QI 200 – Certified Qigong Instructor. After completing Level V you will also earn an additional title of Certified Medical Qigong Practioner. By taking these one level at a time you will have two affordable payment options. You will be able to make monthly payments or prepay by level.
Frequently Asked Questions
Will I learn Acupuncture Points?
The courses in the Certification Program primarily discuss the deeper energetic anatomy and energy pathways: this would include the chakra system, the three dantians and three treasures, and specific acupuncture meridians that are connected to "deeper" energetics like Ren, Du, and Chong Mai in connection to Ida and Pingala and Shushumna in the Indian System.
Certain acupuncture points are discussed as well as understandings related to different organs. But rather than going into all of them, there is an emphasis on certain extra potent places like stomach 36, also known as the three-mile point, and how this relates to deeper healing. As well as the yin tang brow chakra and others.
But again, emphasis is not on all points and meridians but rather focused on the deeper chi reservoirs in the body and the more primary energetic forces. Again those include deeper pathways and specific points associated with those pathways or energy vortexes.
Also, because many of our students are acupuncturists, they already know the acupuncture and acupressure points.
As far as the Medical Qigong technique, I typically demonstrate hands-on and hands-off techniques because some practitioners work with one more than the other. I will show hands-off and even distance healing but then typically address the massage therapist style of working and how to incorporate the technique and the acupuncturists who will be using needles.
If I have already taken one 15 CEU Intensive can I still take Level I All-Inclusive?
Yes! You will actually receive a $199 DISCOUNT if you have previously completed a 15 CEU Intensive with Qigong Awareness, LLC. The Intensive you previously took will replace one of the All-Inclusive Level I Intensives. Please email [email protected] with the name of the previous 15 CEU intensive completed and request for a $199 discount.
You will be sent a one-time promocode for a $199 discount to purchase Level I All-Inclusive Program if you have previously taken a Qigong Awareness 15 CEU intensive.
Because you have already completed one 15 CEU intensive you will only be required to complete one of the two required 15 CEU intensives for Level I. Please choose which of these you would prefer to take to complete your Level I certification. The other 15 CEU intensive will be removed from your Level I program.
Please choose one of these two:
Golden Dragon Medical Qigong Intensive: Alchemizing Stress & Restoring Balance
or
Medical Qigong For Back Pain
How often do you make a new Online Medical Qigong Intensive?
Every one to two years. We create a new Medical Qigong Live Intensive and then film it in a studio and then make it into an Online Medical Qigong Intensive.
How often do you make new Medical Qigong Live Intensives? 
Another great question. We make a new Medical Qigong Live Intensive every one to two years. You may repeat any of our Live Medical Qigong Intensives for additional Qigong Awareness credit towards any of our Level Programs. However the NCCAOM, CA Acupuncture Board, FL Acupuncture Board, CE Broker, FL Massage Board, and Texas Medical Board have approved each of our intensives to provide students credit only one time each.
So, I can keep making the 12 monthly payments for Level I: QI-50 and then begin Level II: QI-100?
Yes, you are welcome to do it that way also. You just won't be able to officially graduate (and receive all final documents) from either level until final payment is received and you have graduated from Level I: QI-50.
If I plan to complete Level I: QI-50 quickly but I already started the monthly payments – how does that work? 
Great question. You may complete the Level I: QI-50 training before the 12 months of payments are done, however we will wait to send your official graduation and final documents until final payment is received. You may ask for a pay off amount if you would like to finish early. You may also begin Level II: QI-100 even before receiving your final documents for Level I: QI-50, but will not be eligible to graduate from Level II: QI-100 until you have officially graduated from Level I: QI-50.
How long does it take to complete Level I: QI-50, Qigong Instructor certification program?
In general about one year. If you take the Medical Qigong Online Intensive and one Medical Qigong Live Intensive close together, theoretically you could complete the entire level I, in just a few months. Also, if you have previously taken one of our Live or Online Medical Qigong Intensives then you may complete Level I in an even shorter time frame.
What if I want to take your entire program all 300 hours? Is there a discount?
We would love for you to take our entire Medical Qigong Practitioner & Qigong Instructor Certification Programs. At this time we are not offering additional discounts on the entire program. We do however offer discounts off of live intensives and our online courses.
Should I sign up for Level I: QI-50, Online Medical Qigong Intensive, or the Live Medical Qigong Intensive first?
The order is completely up to you. If you know for certain that you want to take the Level I All-Inclusive: QI-50, Qigong Instructor certification program then I recommend signing up for that first since it includes everything that you will need to complete Level I. However, if you begin with one of our 15 CEU Intensives either online, live or live webinar format you will receive a $199 discount off of Level I (compensation for substituting one of the online intensives included in Level I). You will also only need to complete one of the 15 CEU Online Courses that make up Level I.
Medical Qigong
Medical Qigong, a primary form of Oriental Medicine, is heralded around the world as a miracle medicine. The father of the more modern Acupuncture, Medical Qigong is sometimes referred to as Acupuncture without needles. It is a form of advanced energy medicine, which involves both hands-off and hands-on healing techniques. A Medical Qigong Practitioner is highly skilled in Qigong practice.
Qigong literally means the skilled practice of gathering universal life force or chi. In the East, it is believed one has the ability to gather exponential amounts of this universal life force energy. Once a Qigong practitioner has learned to harness this energy, he/she can also direct it, for the purpose of healing self and/or others. The more skill one has in working with their own energy system, the more proficiency they have in working with other people's energy systems.
Human beings are not completely physical but are rather made up of subtle energy fields and particles. A Medical Qigong Practitioner can sense a client's energy field and begin to decipher any anomalies in that field that might be obstructing the chi flow. When the chi becomes blocked in the blood, the lymph, the organs, and/or the meridians, then this sets the stage for accelerated aging and disease. The Medical Qigong Practitioner senses the obstruction in the chi flow and directs healing energy to release the blockage. Once this blockage is released, then the chi moves once again like a flowing river, and then the body can heal itself.
If you are a licensed Acupuncturist, Massage Therapist, Chiropractor, or another healing practitioner, Medical Qigong provides you with an amazing continuing education opportunity. Not only will Medical Qigong reignite your passion for healing and working with others, but it will also expand your awareness of the extraordinary.
How to describe it, but a sense of awe...

Wonderment…

Deep gratitude...
Medical Qigong easily incorporates into your current healing practice, and is also a powerful stand-alone healing modality.
It is known for helping the body to heal itself of an array of health conditions including back pain, neck pain, headaches, joint pain, broken bones, post surgery recovery, menstrual pain, fertility issues, arthritis, scoliosis, digestive issues, anxiety, depression, fatigue, general pain, hypertension, chronic fatigue, emotional trauma, stress, PTSD, and more...
The "New" Yoga
Qigong is the new yoga. It is becoming more popular around the world because of its amazing healing benefits.
Unlike some kinds of yoga, Qigong can be practiced by almost anyone at any age and physical ability. Qigong Exercises emphasize the breath and conscious movement. Over 70% of the toxins in your blood are removed through your exhalation. The problem with modern living is that the majority of us are holding our breath due to stress and not moving enough.
Qigong Exercise is a form of preventative medicine that helps to detoxify your blood and nullify the ill effects of stress. Qigong offers healing for an array of different aches and pains like headaches, back pain, stomach pain, neck pain, carpal tunnel, and more.
Qigong can help us manage the emotional side of stress, as well as allowing us to decompress at the end of the day or energize ourselves in the morning before an important meeting. Qigong Instructors are, and will continue to be, in high demand around the country and beyond. Hospitals, healing centers, retreat centers, gyms, yoga studios, and private corporations are now offering Qigong Classes and need Certified Qigong Instructors.
A Certified Qigong Instructor may also promote and teach their own classes. A popular model with low overhead is to offer a Saturday morning Qigong Class at a park. You can also rent a space by the hour to teach a weekly class indoors.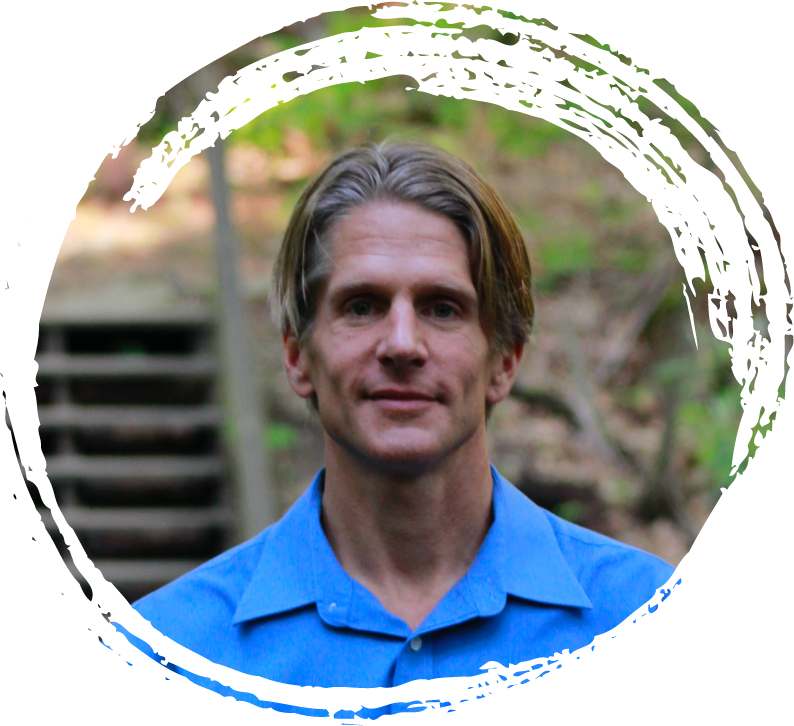 David J. Coon, Medical Qigong Master,
Head Instructor and Co-Founder
of Qigong Awareness, LLC.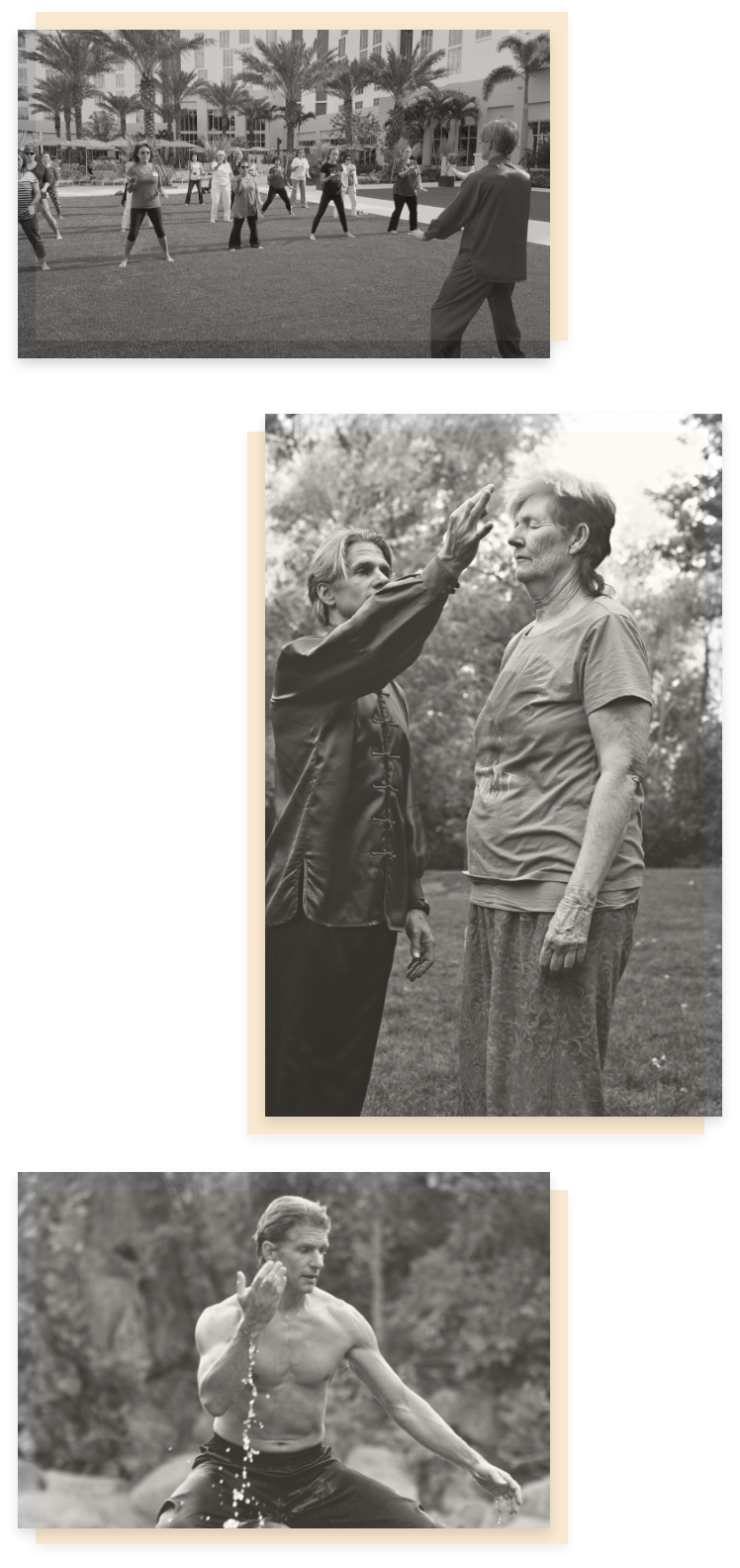 Meet David J. Coon
Medical Qigong Master and Author
David is a Medical Qigong Master with over thirty years of experience facilitating healing for people using Medical Qigong. He is currently an accredited continuing education provider by the NCCAOM, Texas Medical Board, CE Broker, Florida State Board for Acupuncture, and California Acupuncture Board.
David is the author of Qigong For Beginners: Your Path to Greater Health & Vitality available on Lulu.com and Amazon.com. David has also been featured on KGNU radio programs, in newspapers around the country, and has published articles in Magazines including "Medical Qigong and Acupuncture, A Cutting Edge Combination," featured in Acupuncture Today.
When David was fifteen years old he was diagnosed with a severe spinal disease and told that he would be crippled by the time he was thirty years old. Unwilling to accept this fate, David began intensively studying Oriental Medicine, Medical Qigong, Martial Arts and Meditation.
David learned how to cultivate and direct the energetic life force called Chi in Traditional Chinese Medicine. Through Qigong practice, David healed his spinal disease completely! David also found that his mood, his attitude, his outlook on life, and his intuition had all increased exponentially. He was drawn to teaching and sharing these healing practices and spiritual counsel with others.
David also has a vast Martial Arts background with Black Belts in Karate, Tae Kwon Do and Kenpo Karate. He has been an Instructor of Jeet Kune Do and Filipino Martial Arts. He has also studied Japanese Ju Jitsu, Kung Fu, Small Circle Ju Jitsu, Aikido, Chen Style Tai Chi, Brazilian Jiu Jitsu, Pen Jak Silat, Kendo and more..
David's Qigong Practices are underpinned by his Psychology degree from the University of Connecticut and three years of experience as a Professional Counselor in Louisville,Colorado.  He also spent three years at the University of Colorado studying Molecular and Cellular Biology to better understand the inner workings of the body on a cellular and biochemical level.
He has taught and lectured around the country to both lay people and professionals about the healing power of Qigong. David's Qigong practices are now being practiced around the world. They are simple, effective and can be practiced by anyone at any age.
Alongside of his busy traveling, writing and filming schedule David offers Private Retreats, Webinars, and Distance Healing Program in Wilmington, NC.
Qigong Awareness Intensives are
Certified Through These Organizations
15 CEU Units for Acupuncturists & Massage Therapists
NCCAOM* – National Certification Commission for Acupuncture & Oriental Medicine – NCCAOM Provider #507
CA Acupuncture Board** – California Acupuncture Board – CA Provider #1156
NCALB – North Carolina Approved for Acupuncture through NCCAOM reciprocity
CE Broker – Florida & Georgia Acupuncture Board – CE Broker #50-18015
CE Broker – Florida Massage Board – CE Broker #50-18015
CTCMA BC – College of Traditional Chinese Medicine & Acupuncture for British Columbia through NCCAOM reciprocity
CAAA Alberta – College and Association of Acupuncturists in Alberta Canada through NCCAOM reciprocity
NC, SC, CA, IL, NJ, ND, Approved for Massage Therapy*** through NCCAOM
*NCCAOM is the National Certification Commission for Acupuncture & Oriental Medicine. We here at Qigong Awareness offer 15 PDA Points approved by NCCAOM in Core Competency in the AOM-OM Category. This is the main area for continuing education requirements, each four-year renewal period, by the NCCAOM.
**CALIFORNIA ACUPUNCTURE BOARD. Qigong Awareness currently offers online and live continuing education units that meet the California Acupuncture Board Category 1 Requirements.  Every two years California Acupuncturists are required to have 50 continuing education units for license renewal.  The majority of the continuing education units must be taken in Category 1.  Only 5 units may be in Category 2.
***Massage Therapists! Depending on which state you reside in the NCCAOM approval actually gives many states approval for their Massage License Renewal. Check with your local state Massage Licensing Board for reciprocity with NCCAOM.